I tidskriften "The War Illustrated" stötte jag historien om "The Humbie Heinkel" - det första tyska flygplan som sköts ner över brittiskt territorium, den 28 oktober 1939.
Det rörde sig om en Heinkel 111 ur Stabskette/Kampfgeschwader 26 "Westerland", kod 1H+JA, vilken flög ett spaningsuppdrag över Firth of Forth i de östra delarna av Skottland då den överraskades av brittiska jaktflygplan, jagades och slutligen kraschlandade utanför den skotska byn Humbie, söder om Edinburgh. Av en besättning på 4 så dödades de båda skyttarna medans piloten (Unteroffizier Kurt Lehmkuhl) skadades av och maskingevärseld i ryggen och navigatören (Leutnant Rolf Niehoff) verkar ha klarat sig oskadd.
Händelsen fick givetvis stor uppmärksamhet i de brittiska medierna som delade med sig både av fotografier och ögonvittnesskildringar av händelsen. Följande artikel gick att läsa i nummer 18/1939 av "The War Illustrated":
THEY WERE SHOT DOWN IN THE LAMMERSMOORS

A German aeroplane, attempting reconnaissance in the Firth of Forth area on October 28, 1939, was intercepted by British fighters and forced down - the first to crash on British soil. Here are first-hand impressions, reprinted from the "Observer" and the "News Chronicle" of this dramatic encounter.

Scottish country folks, and particularly the 600 inhabitants of Humbie, saw British fighters chase the German 'plane which tried hard to shake them off. They saw a display of aerobatics which held them spellbound and finally the German machine forced to earth.

Over one hundred people gathered on a high piece of ground to watch the grim contest. One of them stated: "The 'plane was brought down about two miles away. It came down on a hillside, struck a stone wall, and even then the pilot would not give up. He tried to get the machine into the air again, and ran along the ground for about half a mile before he had to stop.

In the air it was a fine sight. British 'planes chased the raider for several miles, and the way they looped and turned and twisted in the air as the German tried to get away was marvellous."

Another eye-witness said that a German 'plane came very low over the houses at Humbie.

"I heard machine-gun fire and saw a 'plane streak across the sky with British fighters in close pursuit," he added.
"The enemy 'plane was forced down and taxied across a field and then went up again very low and made for the Lammermoor Hills, where he was again forced down. The 'plane went through a wall, and then taxied along the heather and crashed into the hillside."

And the verdict of the British experts was: "A fine achievement in the circumstances."

When the machine came to a halt, the pilot was assisted out by his navigator., the only uninjured member of the crew. A policeman appeared shortly afterwards, and the pilot, speaking good English, said: "We surrender as prisoners of war. Please see to my gunners in the back of the aircraft."

But both gunners were dead.
The German pilot and his companion were taken as prisoners to Edinburgh.
En annan ögonvittnesskildring av händelsen är denna: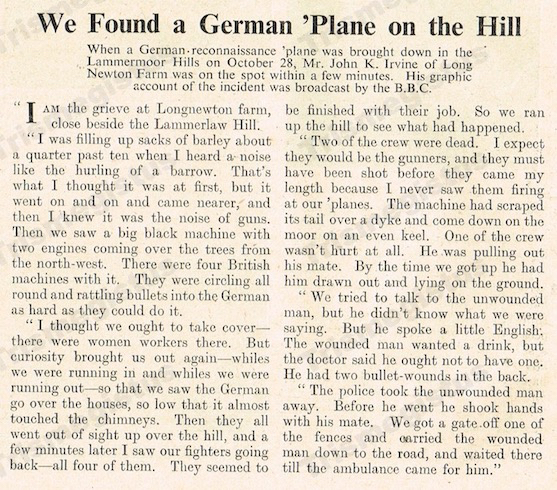 -------------------------------------------------
Följande fotografier av händelsen har jag samlat ihop ur ett par nummer av "The War Illustrated":
Stort uppslag i nummer 10/1939 av The War Illustrated med helsidesbilder: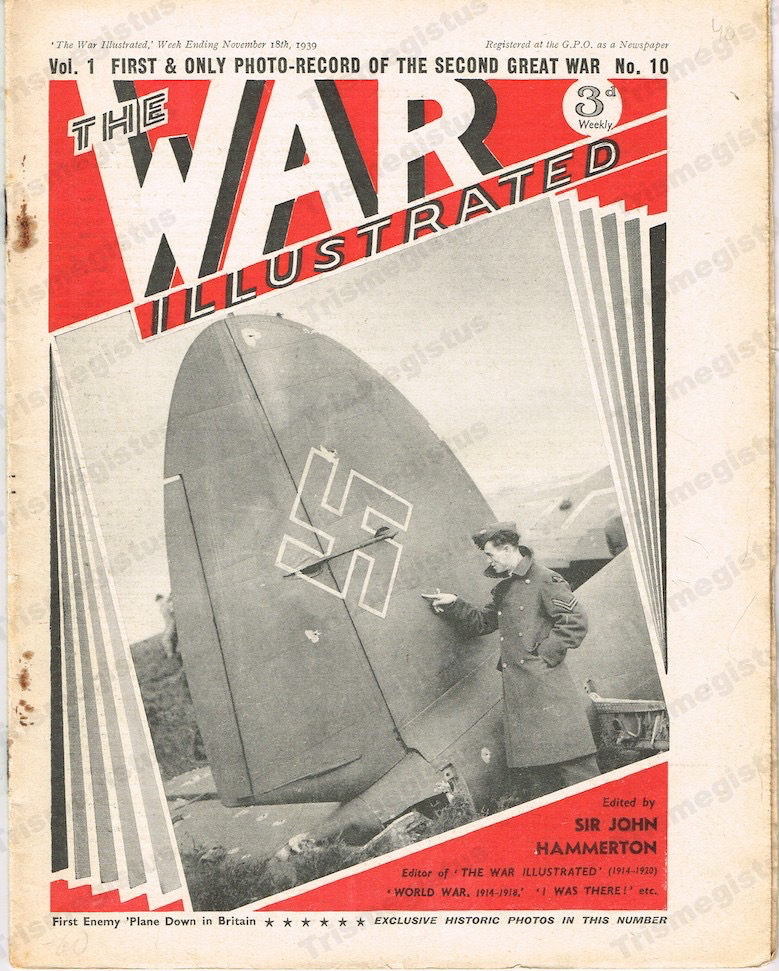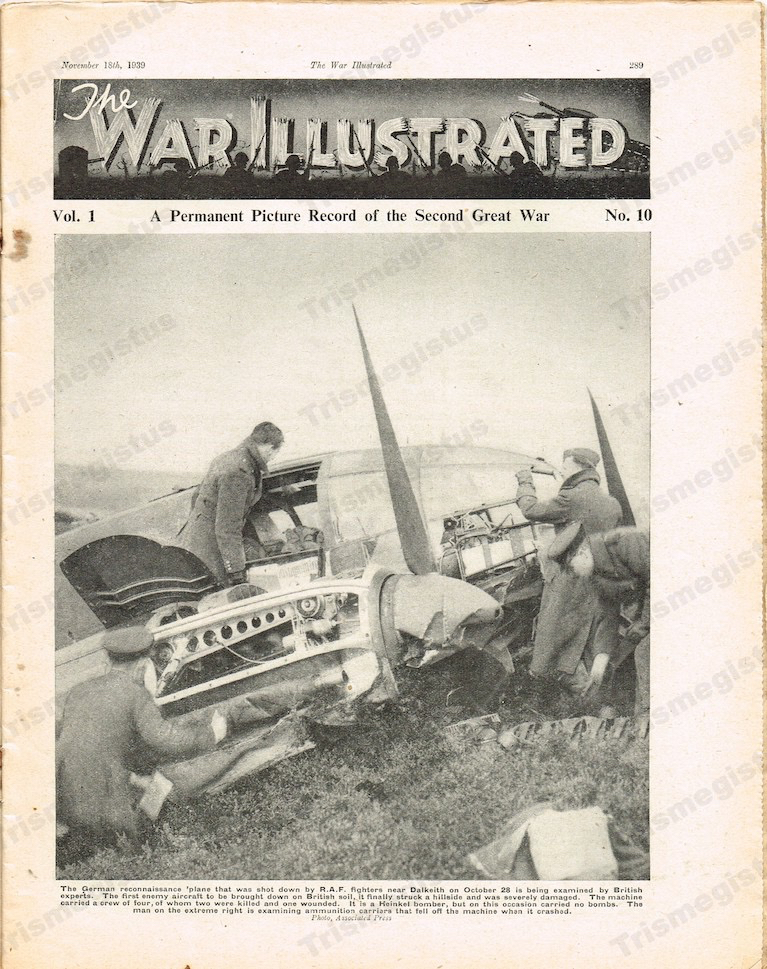 Gott om skotthål i flygplanskroppen: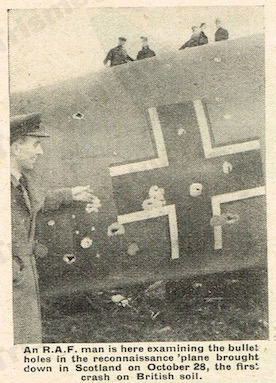 Bild av fronten samt emblemet:
Observera skotthålen i ryggen på stolen som skadade piloten, Unteroffizier Lehmkuhl:
Många nyfikna bybor letade sig snabbt fram till vraket: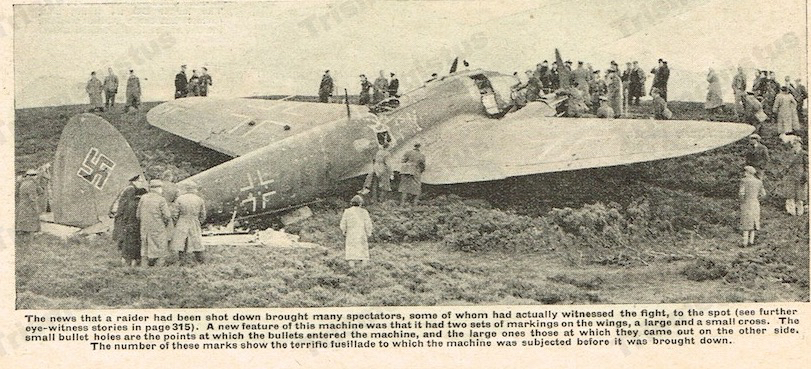 Bildtexter för nedanstående två bilder:
When the first Nazi aeroplane was brought down on British soil near Dalkeith on the morning of October 28, two of the crew were killed and the pilot was wounded. only the observer, Lt. Rolf Niehoff, seen above left, escaping all injury. Right is a close-up view of the ammunition strewn amongst the heather.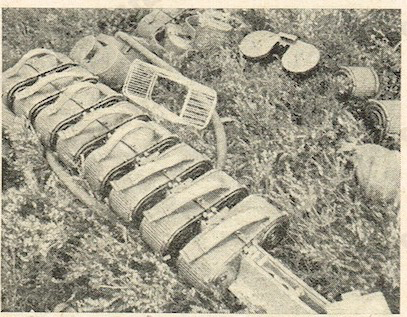 Film av händelsen på Youtube
: